Anthem is a fantastic game from the creators of the original Mass Effect trilogy. The project takes place in a post-apocalyptic world in which players take on the role of freelancers – people in power armor, reflecting the attacks of creatures from another world.

Anthem's post-apocalyptic role-playing action takes place in a world created by the gods, and then abandoned when he is tired of them. So further the planet developed under the laws of chaos.

You can play Anthem alone, but better not. It is much more fun to do this in the company of other living people, especially since players of Anthem characters are divided into classes. When a tank and a medic are present in your squad, it becomes easier and more pleasant to wade through conflicts.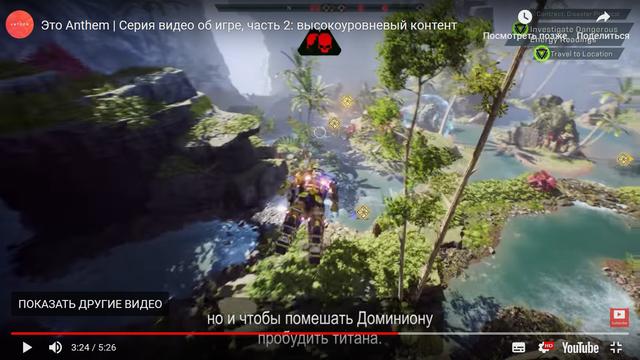 In terms of structure and mechanics, everything that is happening is reminiscent of a competing Destiny (the authors of Anthem do not consider it necessary to hide it strongly): there is a single hub where you take your breath, hand over your loot to the shops and get new tasks. Around – the space of the struggle of varying degrees of complexity: from mini-quests that can be done alone or together, to complex raids, which even the team played does not go far from the first time.
In Anthem, combat suits, of course, need constant improvements that allow you to fight more difficult enemies, opening up access to new improvements. And you can also improve weapons.

It is no secret that Anthem is a game about grind and, as it should be in such entertainment, most of the unrestrained farm falls on the plot part.
BioWare spoke about the updates that are waiting for the Anthem MMO shooter in the spring of this year. The "upgrades" of the first big "Act" of updates – Echoes of Reality – will be released in February-March, April and August of this year.
Outlaw Outrage, There Be Giants and Shaper Surge events will be released by the end of February, two more freeplay events are scheduled for March, seven more for April, and one for May. In March, you can wait for legendary story missions, Elysian Stronghold caches and unique space armor. In April, new legendary missions will also appear, plus a release of the new progression system will take place, in the same month there will be a table of leaders and guilds and The Sunken Stronghold, a weekly challenge on Stronghold. In May, while promising new items and missions. The final chord of the spring will be a great DLC The Cataclysm. After it, we are waiting for two more big "Acts" of updates, which will be discussed more later. Recall, anthem is available on PC, Xbox One and PlayStation 4.

BioWare has officially unveiled the minimum and recommended requirements of its upcoming science fiction project Anthem.
At a minimum, the game will require:
OS: 64-bit Windows 10
Processor: Intel Core i5 3570 or AMD FX-6350
Memory: 8 GB RAM
Video card: Nvidia GTX 970 4GB or AMD R9 390 8GB
As for the recommended requirements, they include:
OS: 64-bit Windows 10
Processor: Intel Core i7-4790 3.6 GHz or AMD Ryzen 3 1300X 3.5 GHz
Memory: 16 GB RAM
Video card: Nvidia GeForce GTX 1060 / RTX 2060, AMD RX 480 4 GB
On the hard disk under Anthem you will need to allocate 60 GB. Recall release Anthem will be held February 22, 2019, in versions for PC, PlayStation 4 and Xbox One.