German artillery unit Sturmpanzer 2 or its other code name 15 cm sIG 33 auf Pz.Kpfw. 2. It was created based on Pz.Kpfw. 2 Ausf. B. Since 1940, the Germans attempted to significantly improve their tanks and increase their capabilities. To prevail on the battlefield, they needed to improve the tanks by installing 150 mm caliber on them.

And already in February 1941, the FAMO factory managed to create a prototype artillery mount on the basis of the Pz.2 Ausf.B tank and install the sIG 33 / L12 gun on it, which had 150 mm caliber. Moreover, the prototype had a close cabin, in which it was not convenient to work as a loader.
Subsequently, the shortcoming with the placement of the loaders was eliminated by increasing the space. The tank was expanded by 330 millimeters in width and increased in length by 600 millimeters. And for this, the transmission was slightly modified by adding one roller.
The installed sIG 33 gun has been manufactured since 1927. The range of hitting the target with a projectile was available at a distance of up to 4,700 meters. And the speed of the projectile reached 240 meters a second.
The tank was manufactured at Alkett from 1941 to 1942. In total, 12 units of tanks were able to manufacture over this period.
The German artillery unit Sturmpanzer 2 was delivered to military units of 707 and 708 tank companies. Which were sent to hostilities in North Africa, for the battles of El Alamein. Almost all manufactured tanks showed themselves not from the best side, often broke. Part of the self-propelled guns was lost in the fighting, and the remaining ones were captured.
The German army gained good experience and took into account the shortcomings of the created tank. Which tried not to allow in the manufacture of new samples and the manufacture of new models of self-propelled guns.
In the online game world of tanks.
The German artillery unit Sturmpanzer 2 is on level 4. This artillery mount has a low silhouette, which increases the chances of camouflage. Can transport shells of 30 pieces.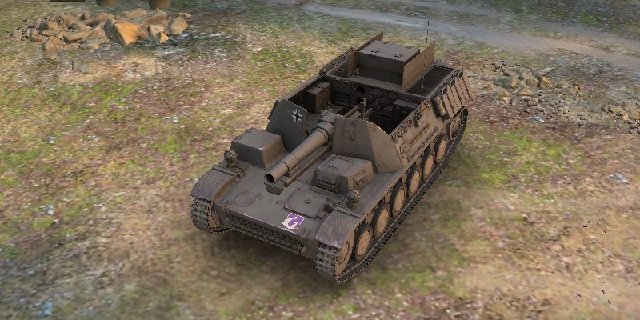 The positive characteristics of a self-propelled gun is a cannon that can fire a canopy like a mortar and hit enemy tanks even behind some obstacles and shelters. Which in turn increases the chances of critical hits and damage. And good mobile performance, an acceptable speed that allows you to change the position of the shelling.
And the disadvantages are not very large range of the projectile and horizontal rotation of the gun.