The development team is once again adding variety to the game. This time, the Battle Pass event awaits us to increase interest in random fights. The validity period will last as long as three months from March to June 2020. And for passing this gaming event, players will receive valuable rewards.
The main task is to get the most points based on the results of a random battle. Points are counted if the player took the fighting on technology from 6 to 10 levels. For victory and defeat, if they entered the first 10 participants by experience. For victory, getting into the top 3 you can get 7 points, and the top 10 players from experience 5 points. For losing to the top 3, the player will get 5 points, and if the tank gets into the top 10 then 3 points. Moreover, if not included in these lists, the top 10 points do not burn out and are not awarded.
In one standard stage, 45 levels. To complete one level you need to score 50 points. And in order to reach level 45, you need to score 2250 points. And each level passed is awarded with different awards.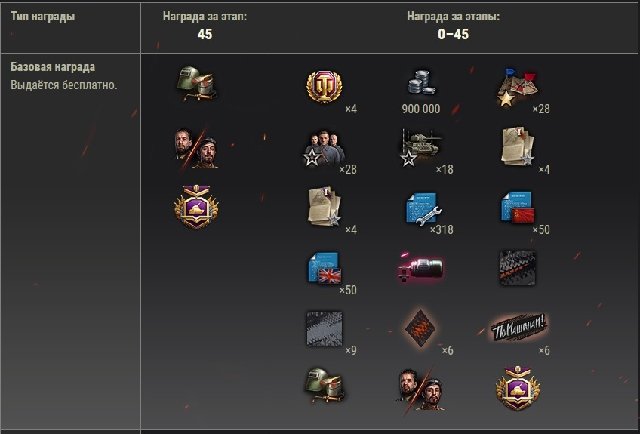 Each military equipment in the hangar has a point limit, which is available for participation in battles on this equipment. That is, as if having received all the points that are available, we can say that the task for this tank is completed.
The amount of points per tank depends on the level of technology. The higher the tank level, the more points you can earn in random battles.
With the introduction of a new gaming event, both a unique and currently new introduction will appear. It will be possible to improve the equipment. But for now, these functions will be realized only on premium equipment, which is called "captured equipment."
"Trophy equipment" can be improved for loans to the second level. And it will be similar to what is bought for Bon. At the moment, only two types of equipment will be available. These are "Trophy rammer" and "Trophy aiming actuators".
At the end of 45 levels, rewards for tanks will be available, these are camouflage. As well as military commanders with pumped perks. And it will be possible to choose only one commander from two.
There is an opportunity to purchase the "Improved Pass" and go through the levels in the same way, but receive more valuable rewards. Such a pass costs 6500 gold.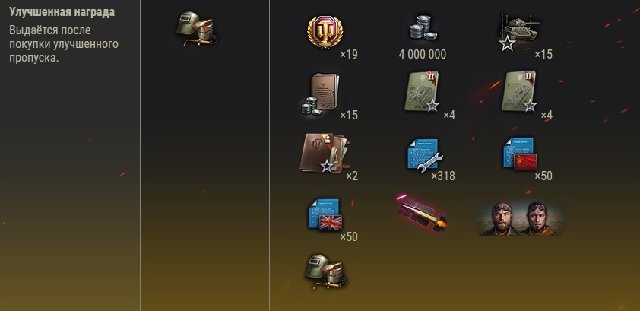 After the players pass the standard base part and reach level 45, access to the "Elite part" will open. Passes in the same way as the "Base", but to achieve requires more points. But at the same time, the reward is corresponding to "Bonn". There are 100 levels in the Elite section.